This guide will take you through each step required to add the dual lens PTZ (IPC9312LFW-AF28-2X4) to a Uniview NVR.

It has been written in the context that the dual lens PTZ is connected to a separate POE switch and there's already an IP address, subnet mask, and gateway assigned to the camera within the local network subnet range.
Step 1: Open the web interface for the NVR and go to Setup->Camera->Camera. Next click the button labeled "Auto Search" and wait a few seconds for it to populate with a list of cameras.
Step 2: Select the PTZ from the list by checking the box to the left of the IP address. Click the OK button to add the PTZ to the NVR. (Notice on the Qty column the dual lenz PTZ has a "2" where the other IP cameras have a 1. This essentially means we can add it to the NVR twice, once for each lens on the PTZ.)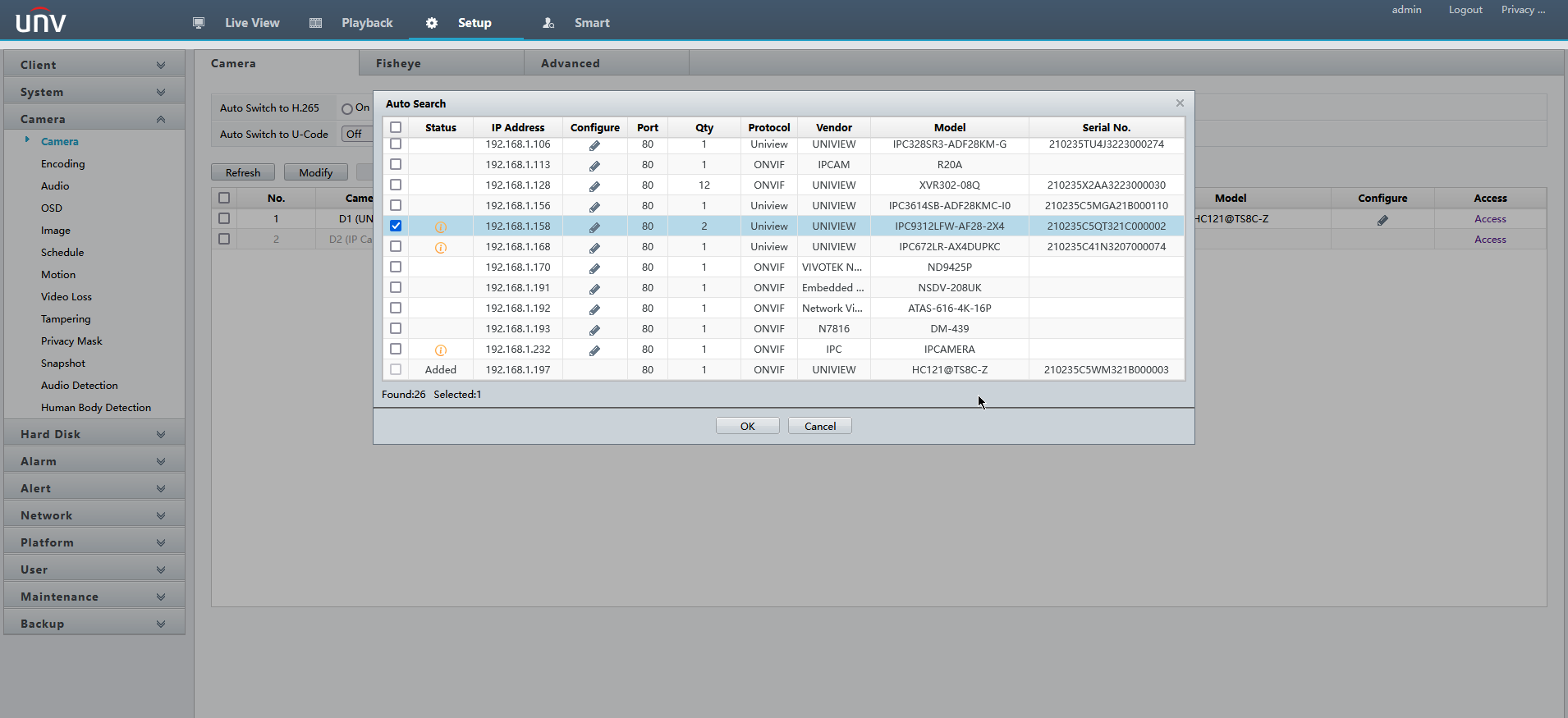 Step 3: On the camera page you should now have two new devices added with the same IP address, one for each lens on the PTZ.
-The Status column will show blue camera icons when connecting the camera, if successful the camera icons will turn green.
-If unsuccessful the icons will turn grey, if so hover your mouse over one of them and it will give you a short message on why it did not connect.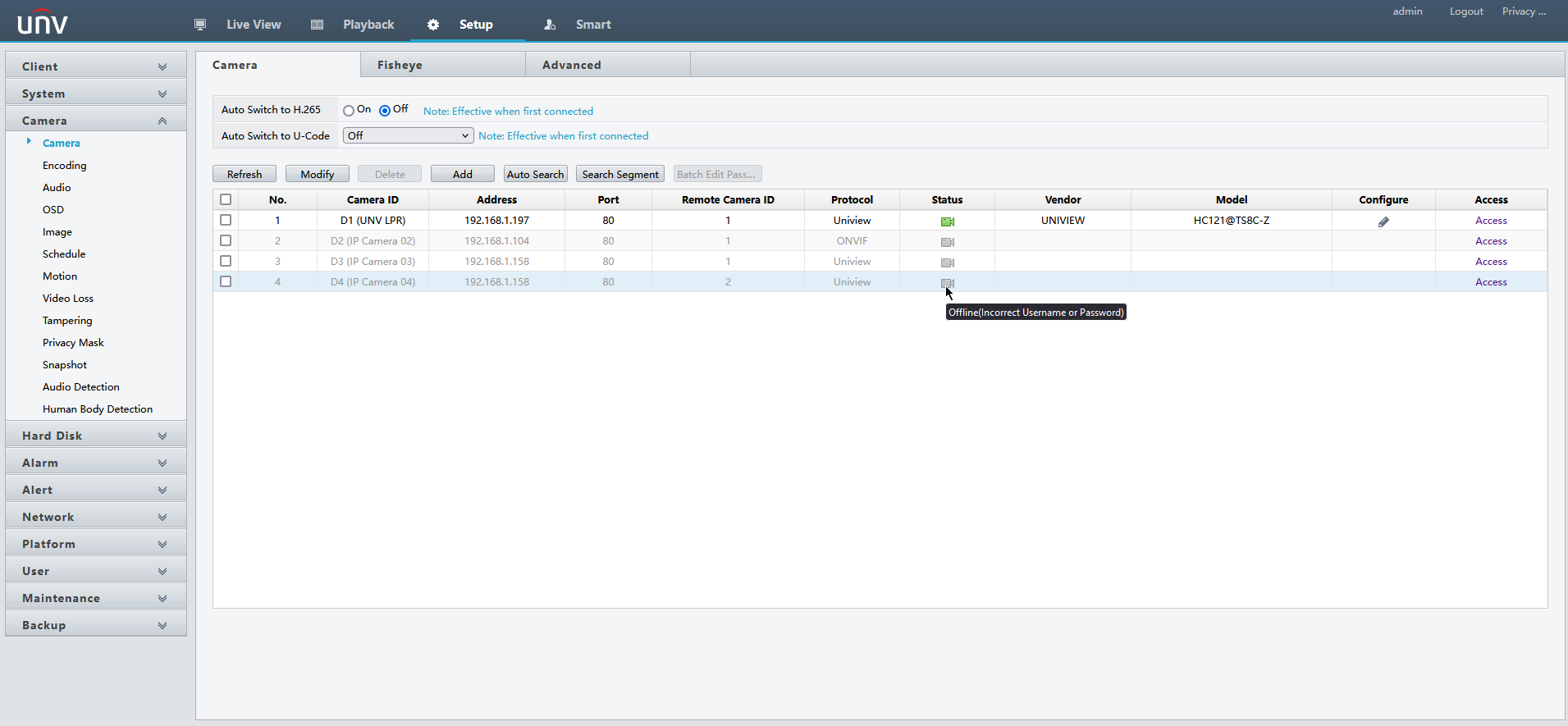 Note:
As you can see in the screenshot above the PTZ streams didn't connect because the default password (123456) was changed on the PTZ.
Step 4 (Optional): If you didn't change the default password on the PTZ it will be connected to the NVR without any additional actions needed. You're all set, click the Live View tab to view the PTZ streams.
If the password on the PTZ was changed prior to adding it to the NVR and you are getting the "wrong username or password" message select one of the channels that were added and click the Modify button. Type in the password that you created for the PTZ in the password field then click the Save button. Lastly, do the same thing for the second channel stream.
Once you have the password set for both channels the Status icons should turn green (you may need to click the Refresh button a few times). Now go to the Live View tab to view both PTZ streams.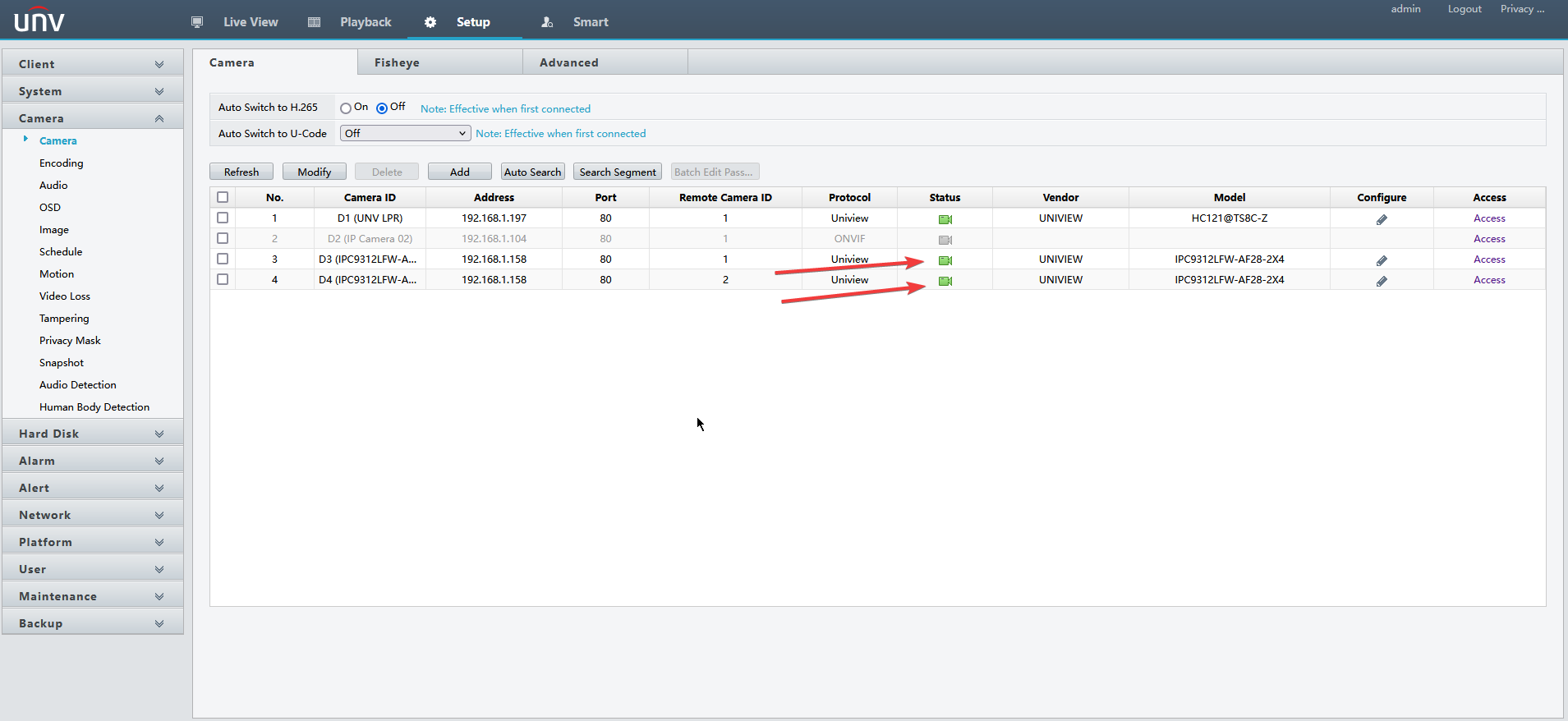 Live View: