Certain Uniview PTZ models support Auto Tracking. This function is used primarily to track a human in a restricted or sensitive area that is normally inaccessible.
Note
Please check the Camera's Spec Sheet or contact technical support to verify if your model supports Auto Tracking.
Installation
Mount Height

10ft - 15ft is recommended if the camera is used in restricted zones, industrial areas, or sidewalks

15ft is recommended for use on roads.

Monitoring Distance

For 4X Optical Zoom PTZs, 6ft - 80ft is recommended, and the camera works best in the range of 20ft - 30ft.

Viewing Angle

Top view angle range: 15°-30°.

20° is recommended.



Variables

Lighting

Recommended: scenes with adequate and even lighting, and the camera has a clear view of the object.

Not recommended: Camera's view of object is blocked, and lighting is uneven.

Object Moving Speed

The camera may lose track of the object if the object moves faster than 17s per circle (360 degree). 15ft - 30ft monitoring distance is recommended to ensure that the object's angular speed is not too high.

Slanted View

A slanted view may lead to unsatisfactory tracking performance. Adjust camera view properly by adjusting camera position or by PTZ movements.

Unobstructed View

The camera may stop tracking the object when the object is blocked by vehicles and tree branches. Install the camera in the center of surveillance area with an unobstructed view.

Lens Direction

If camera tilts down to the vertical (lens facing the ground directly) when tracking the object, the camera may not be able to keep tracking. The recommended top view angle is 15°-30° (best at 20°).

Multiple Objects

If multiple objects appear in the surveillance area, the camera selects and tracks the object closest to the center of the surveillance area.
Functionality
When the camera detects one or more human objects, it tracks the object in closest distance and makes the person in the center of the image. The camera rotates with the object's movement.
Continuously Track

The camera keeps tracking the object until it disappears, and then returns to the original position.

Max. Tracking Time

The camera tracks the object from when the object is selected to when the tracking time is up, and then returns to the original position.
Configuration
The location of where to enable Auto Tracking may vary from PTZ to PTZ. In this guide, we are referencing the model IPC672LR-AX4DUPKC.
From the PTZ's live view via web interface, select Setup -> Intelligent -> Smart -> Auto Tracking.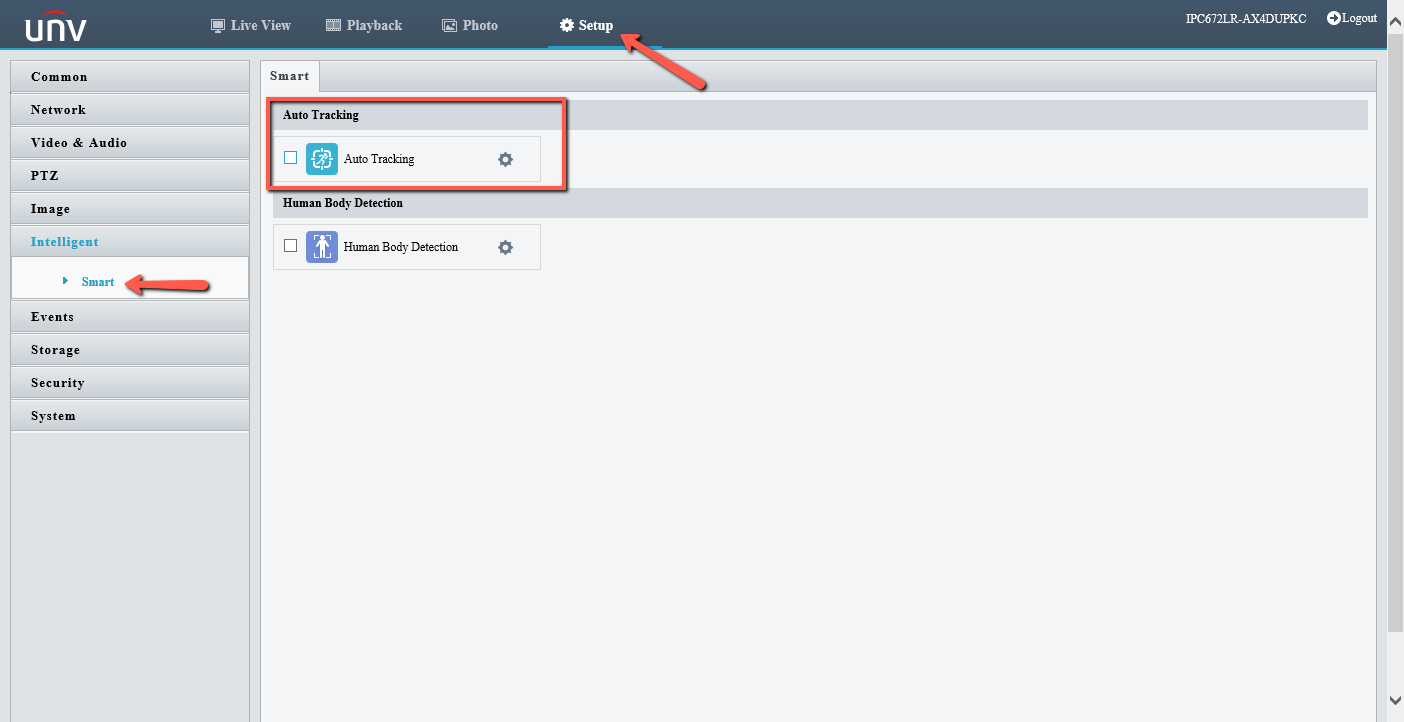 Select the Gear Icon to configure Auto Tracking.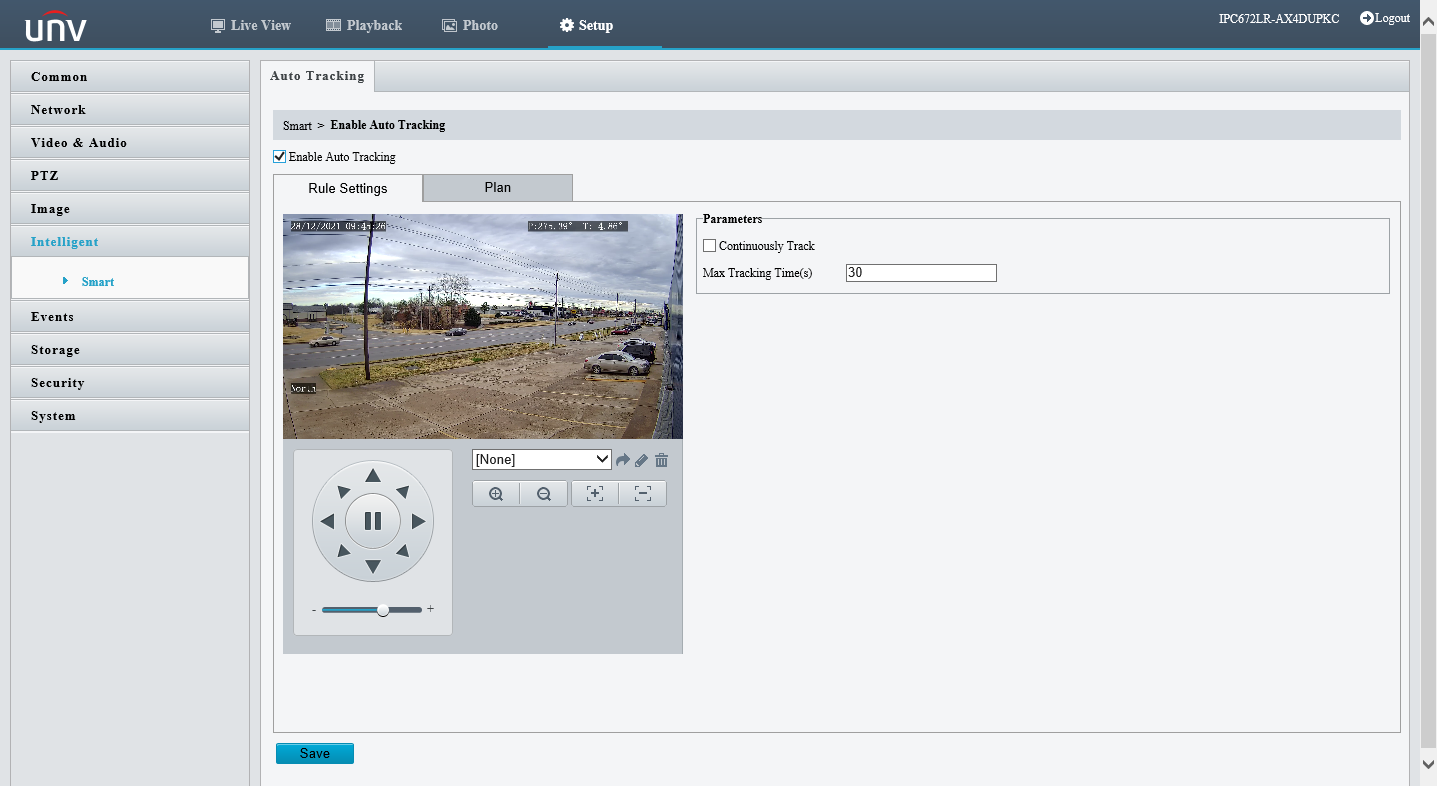 Max. Tracking Time

The time (in seconds) that the camera tracks the object. The camera tracks the object for the set time duration and then returns to the original position.

Continuously Track

When enabled, the camera tracks the object until it disappears from the surveillance area, and then returns to the original position.

Plan

Set the time period for your settings to take effect.

PTZ panel