Step 1. Download The SADP Tool
You will need to download the following Windows tools to assist you with this step:
SADP Tool - Search Active Device Protocol Tool.
Step 2. Camera Activation and IP Address Assignment
Next, you need to make sure your camera's IP address is set on the same subnet as your router. To do that open the SADP Tool and you should see a list of your cameras after they boot up (it could take a minute or two for them to show).
First, activate the camera by clicking the checkbox on the left, now simply create a password on the right side of SADP. Note: The password must contain 8 to 16 characters, combining numbers, lowercase letters, uppercase letters, and special characters.
If you plan to view your camera remotely you can check the box "Enable Hik-Connect" below the password fields. This will bring up another window asking you to create a verification code, we recommend making the verification code the same as the password you created on the previous screen. After you create the verification code click Activate to activate the camera.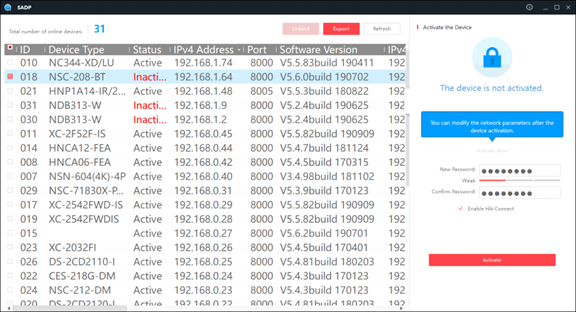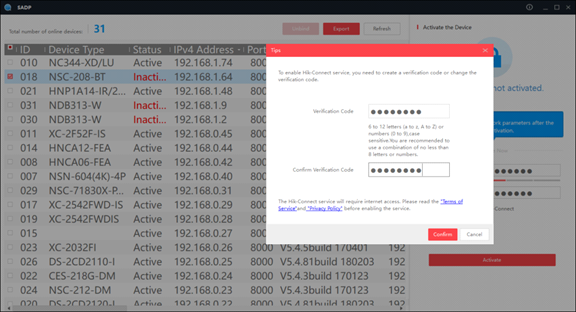 After activating, another window may pop up where you will need to input either Security Questions or a Recovery Email in case you lose or forget your password. This is a very important step, don't skip it! After creating the password recovery method now we can sync the camera up with the network in the next step.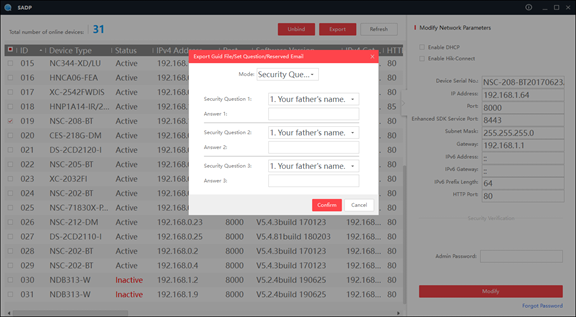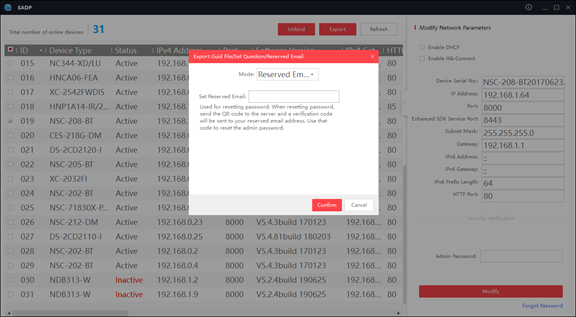 Check the box that says Enable DHCP at the top right, type in your password at the bottom, then click Modify. If the camera is connected to a router the camera should pull an available IP address that's different than the default of 192.168.1.64. When the IP changes uncheck Enable DHCP and click Modify one more time. Now that the camera is synced with the network it's ready to be accessed directly.