Prelim
Its very rare, but some recorders have an actual reset button physically on their motherboard. If you press and hold this for 30 seconds, this will default the recorder entirely. And you will start from scratch.
If there is no reset button, follow the next instructions:
Step 1. Download and Run the SADP Tool
You can Download the SADP Tool Here
Step 2. Determine the Firmware Version and Build Date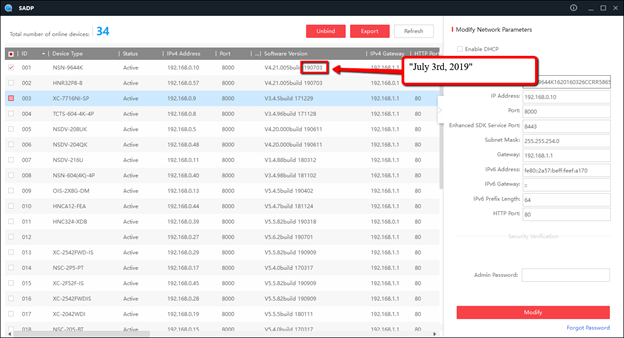 Example: 190703 = July 3rd, 2019
If the build date is 2016 or older, please email the full serial number of the recorder and email it to our support team. customerservice@nellyssecurity.com.
If the build date is 2017 and newer, please go to the "2017 and Newer" Section below.
2016 and Older Instructions
Serial Number Location: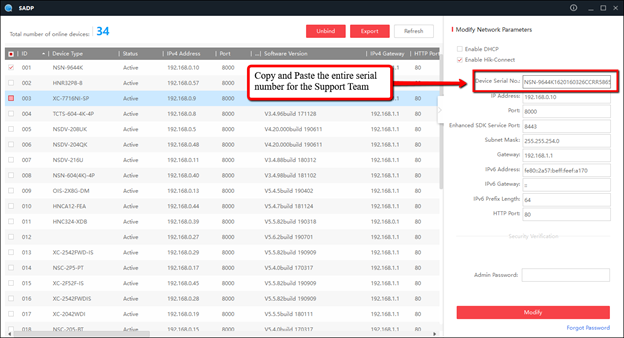 The Support Team will then send over a generated Key for you to use. (the code is good for that day only)
Click on "forgot password" in the bottom right corner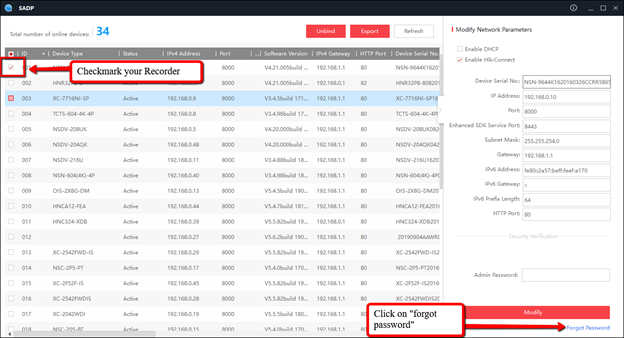 Paste in the generated code, input your new password then click Confirm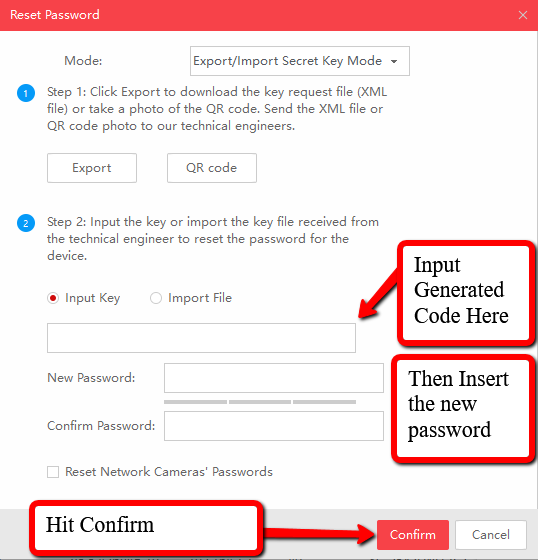 After Confirming, you should get a Success message and you'll be all set!
2017 and Newer Firmware
Select the device, by checking the checkbox to its left, and press the Forgot Password option on the bottom-right corner of the user interface.

A pop-up window containing instructions will appear.

Press the EXPORT button to export the password reset key.

After pressing the EXPORT button, a new SELECT FOLDER window will appear. For ease of use, select DESKTOP as the export directory and click on the Select Folder button on the bottom.

After locating the reset file on the desktop, email it to customerservice@nellyssecurity.com
Please allow an hour to receive a reply during normal business hours (Mon-Fri 9AM-5PM CST). If the email was sent outside of normal business hours, the reply will be sent on the next business day.
The reply from the technical support team will contain a reset file or key, generally called ENCRYPT (the file may have an altered name, if files for multiple devices are being sent). Upon receiving the reset file download it to the DESKTOP (for ease of access).
Please note, the reset file is good for 4 calendar days, and during those days the device for which the reset file has been generated cannot be rebooted or powered down.
To finalize the reset procedure, the Reset file or Key will need to be "imported" into the device, along with a new password (remember, there is no default password to reset to).
To "import" the reset file, click on the button with a FOLDER ICON.

A new OPEN window will appear. Select DESKTOP as an import directory and select the reset file and click on the OPEN button.

Type the new password into the NEW PASSWORD field, then confirms the password by re-typing the password into the CONFIRM PASSWORD field. Press CONFIRM.

After Confirming, you'll get a Success Message and you'll be all set!