In this guide, we will show you how to set up your R-Series camera for viewing on most third party NVRs. The steps you take to actually add your R-Series camera to your third party NVR will vary depending on your NVR's brand.
Before Getting Started
Before we start, if you do not yet have an NVR for recording your cameras, we recommend our R-Series recorders. All you need to do is plug your camera into the POE switch in the back and you are done.
However, if you want to use these cameras on a 3rd party NVR, here are some tips for getting it set up. The details for actually setting up on your NVR will differ depending on the brand. We do have two guides showing you how to do this using a Dahua and Hikvision NVR. However, the concept is the same no matter which ONVIF compatible NVR you are using, so please use these instructs as a baseline no matter what brand recorder you have.
Note: The most important thing to look for in your NVR is its resolution capabilities. If you're using one of our R-Series 4K cameras, you'll need to ensure that your NVR can handle at least 8MP cameras. Some NVRs cannot. This is very important!
Also, some NVRs cannot do H.265 encoding. Therefore we will show you how to change the camera to H.264 encoding to ensure that it will work on your NVR. Even if your NVR does allow H.265 decoding, depending on its ONVIF version, it may still not accept the R-Series H.265 video. Therefore, we recommend that you follow these steps before you get started.
Navigate to the "Video Streaming" Menu
This menu is located in the "Remote Setting" > "Network" tab.
In the "Video Streaming" Menu, Change the "Video Codec Type" setting to "H.264"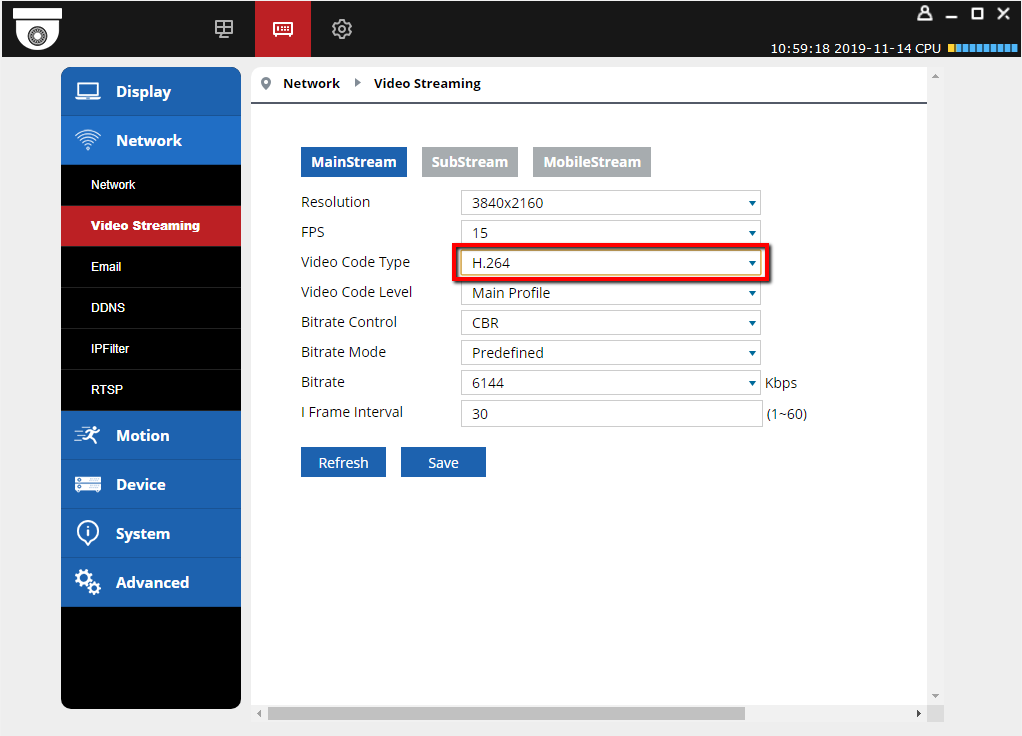 Change your Camera's IP Network Type to Static
Navigate to the Network menu ("Remote Setting" > "Network" > "Network") and change your IP network type from "DHCP" to "Static." Also while you're here, take note of your camera's IP address, as you will need this whenever you enter it into your NVR.
In our example, we'll take note of the IP address 192.168.1.77.
Proceed to your NVR and add your R-Series camera via the ONVIF protocol.
The exact steps you take here will vary. Click here if you're using an H-Series or a Hikvision NVR. Click here if you're using a Dahua NVR. If your NVR is a different brand, you may still want to read these articles to get the general idea. You'll still be able to use these basic principles.